---
The History of Art Nouveau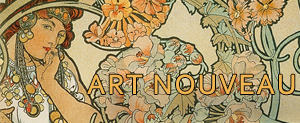 Art Nouveau is an international philosophy and style of art, architecture and applied art—especially the decorative arts—that was most popular during 1890–1910. English uses the French name Art nouveau ("new art"), but the style has many different names in other countries. A reaction to academic art of the 19th century, it was inspired by natural forms and structures, not only in flowers and plants, but also in curved lines. Architects tried to harmonize with the natural environment.
Art Nouveau is considered a "total" art style, embracing architecture, graphic art, interior design, and most of the decorative arts including jewellery, furniture, textiles, household silver and other utensils and lighting, as well as the fine arts. According to the philosophy of the style, art should be a way of life. For many well-off Europeans, it was possible to live in an art nouveau-inspired house with art nouveau furniture, silverware, fabrics, ceramics including tableware, jewellery, cigarette cases, etc. Artists desired to combine the fine arts and applied arts, even for utilitarian objects. Although Art Nouveau was replaced by 20th-century Modernist styles, it is now considered as an important transition between the eclectic historic revival styles of the 19th-century and Modernism.
Art Nouveau is usually known as Jugendstil in Germany, as Modern (Модерн) in Russia, as Modernism in Catalonia (Spain), as Secession in Austria-Hungary and as Stile Liberty in Italy. The style was most popular in Europe, but its influence was global. Hence, it is known in various guises with frequent localised characteristics. Other local names were associated with the characteristics of its forms, its practitioners and their works, and schools of thought or study where it was popular. Many of these terms refer to the idea of "newness". Before the term "Art Nouveau" became common in France, le style moderne ("the modern style") was the more frequent designation. Arte joven ("young art") in Spain, Modernism in Catalonia, Arte nova in Portugal ("new art"), Arte nuova in Italy (also "new art"), and Nieuwe kunst ("new art") in the Netherlands, модерн ("new", "contemporary") in Russia — all continue this theme. Many names refer specifically to the organic forms that were popular with the Art Nouveau artists: Stile Floreal ("floral style"), Lilienstil ("lily style"), Style Nouille ("noodle style"), Paling Stijl ("eel style"), and Wellenstil ("wave style").
In other cases, important examples, well-known artists, and associated locations influenced the names. Hector Guimard's Paris Métro entrances, for example, provided the term Style Métro, the popularity in Italy of Art Nouveau designs from London's Liberty & Co department store resulted in its being known as the Stile Liberty ("Liberty style"), and, in the United States, it became known as the "Tiffany style" due to its association with Louis Comfort Tiffany. In Austria, a localised form of Art Nouveau was practised by artists of the Vienna Secession, and it is, therefore, known as the Sezessionstil ("Secession style"). As a stand-alone term, however, "Secession" (German: Sezession, Hungarian: szecesszió, Czech: secese) is used frequently to describe the general characteristics of Art Nouveau style outside Vienna, but mostly in areas of Austria-Hungary at the beginning of the 20th century. In the United Kingdom, it is associated with the activities of Charles Rennie Mackintosh in Glasgow, and is often known as the "Glasgow" style.
---