---
'Material Girl' Madonna sells painting for $7.2 million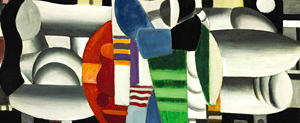 Sotheby's auction house in New York has sold a Fernand Leger painting owned by 'Material Girl' Madonna, for $7.2 million dollars.
The funds will benefit the 'Ray of Light' Foundation, which promotes girls education in many countries, including Afghanistan and Pakistan.
The work which the pop dive has owned for over 20 years, was bought in 1990 for $3.4 million.
'Trois Femmes a la Table Rouge' or 'Three Women at the Red Table' by Fernand Leger in 1921, depicts three women in a still life composition.
---
Joseph Fernand Henri Leger (February 4, 1881 – August 17, 1955) was a French painter, sculptor, and filmmaker. In his early works he created a personal form of cubism which he gradually modified into a more figurative, populist style. His boldly simplified treatment of modern subject matter has caused him to be regarded as a forerunner of pop art.
In 1909 he moved to Montparnasse and met such leaders of the avant-garde as Archipenko, Lipchitz, Chagall, Joseph Csaky and Robert Delaunay. His major painting of this period is Nudes in the Forest (1909-10), in which Leger displays a personal form of Cubism—his critics called it "Tubism" for its emphasis on cylindrical forms, that made no use of the technique pioneered by Braque and Picasso.


Fernand Leger: Three Women at the Red Table (1921)

---