---
Art Basel Miami: Pablo Picasso art stolen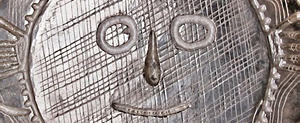 The Pablo Picasso artwork, 'Visage aux Mains 1956', was stolen from Art Basel Miami overnight on Thursday or early Friday. Art Week, the annual fest in Miami Beach, attracts art enthusiasts and collectors to South Florida. 'Visage aux Mains' (Face and Hands) is a 16.5″ wide silver plate made by the artist in 1956.
It is #16 of a 20 piece set featuring a face with hands circling the plates edge. No other artwork was reported stolen, even though there was another Picasso ceramic piece in the area that was worth $360,000.00.
The Artwork is valued at $85,000 – $90,000.00.
Only cleaning crews, employees and booth operators had access to the site overnight. There is a list of all personnel allowed to work on the premises.
The Miami Police are currently investigating the theft, and while there was no video surveillance or witnesses reported, there was 24-hour security guards at entrances and exits.
---