---
Hokusai – Private life of a Masterpiece – The Great Wave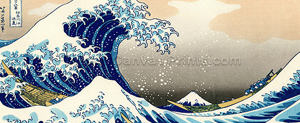 Katsushika Hokusai (October 31, 1760 – May 10, 1849) was a Japanese artist, ukiyo-e painter and printmaker of the Edo period. He was influenced by such painters as Sesshu, and other styles of Chinese painting. Born in Edo (now Tokyo), Hokusai is best known as author of the woodblock print series Thirty-six Views of Mount Fuji which includes the internationally recognized print, The Great Wave off Kanagawa, created during the 1820s.
Hokusai created the "Thirty-Six Views" both as a response to a domestic travel boom and as part of a personal obsession with Mount Fuji. It was this series, specifically The Great Wave print and Fuji in Clear Weather, that secured Hokusai's fame both in Japan and overseas. As historian Richard Lane concludes, "Indeed, if there is one work that made Hokusai's name, both in Japan and abroad, it must be this monumental print-series…". While Hokusai's work prior to this series is certainly important, it was not until this series that he gained broad recognition.
In the West, the artist may be known for his woodblock print of The Great Wave off Kanagawa.
The Great Wave off Kanagawa ("Under a Wave off Kanagawa"), also known as The Great Wave or simply The Wave, is a woodblock print by the Japanese artist Hokusai. An example of ukiyo-e art, it was published sometime between 1830 and 1833 (during the Edo Period) as the first in Hokusai's series Thirty-six Views of Mount Fuji (Fugaku sanjūrokkei), and is his most famous work. This particular woodblock is one of the most recognized works of Japanese art in the world. It depicts an enormous wave threatening boats near the Japanese prefecture of Kanagawa. While sometimes assumed to be a tsunami, the wave is, as the picture's title notes, more likely to be a large okinami — literally "wave of the open sea." As in all the prints in the series, it depicts the area around Mount Fuji under particular conditions, and the mountain itself appears in the background.
Copies of the print are in many Western collections, including the Metropolitan Museum of Art in New York City, the British Museum in London, The Art Institute of Chicago, and in Claude Monet's house in Giverny, France. There is also a copy in the Asian Gallery of the National Gallery of Victoria in Mebourne, Australia.
---

Katsushika Hokusai: The Great Wave of Kanagawa 1823 Print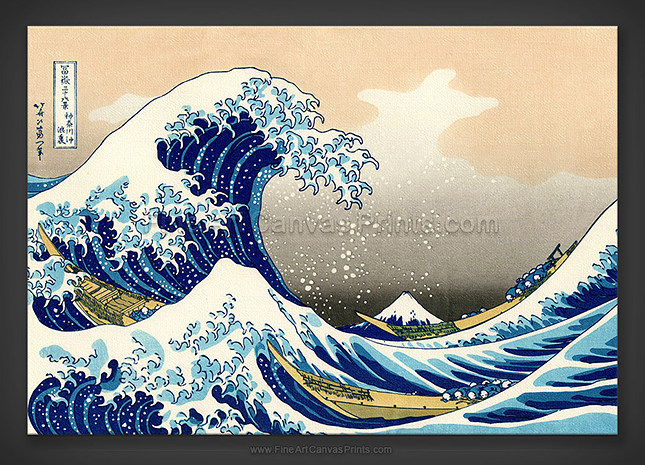 ---