---
Lost work of painter Vincent van Gogh discovered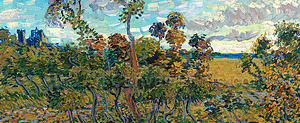 A long-lost work of the Dutch painter Vincent van Gogh has been discovered. It lay in an attic in Norway for years, thought to be by another painter. Sunset at Montmajour was painted 1888, and depicts a lush landscape of foliage, trees and sky in the thick brushstroke style in all of van Goghs later works.
The location in which the painting is set is Arles in the south of France, with the ruins of the Montmajour Abbey in the background. It was painted in the same period he painted works such as Sunflowers, The Yellow House and The Bedroom.
The painting was inventoried among Theo van Goghs (Vincents brother) collection of Vincents works in 1890, and was sold in 1901. In 1970 it re-emerged as part of the estate of the recently deceased Norwegian industrialist Christian Nicolai Mustad who had been advised by the French ambassador to Sweden that it was not a Van Gogh. The painting then languished in the attic of his home.
The painting is unsigned, and had previously been dismissed by the Van Gogh Museum in the 1990s.
With the development of improved investigative techniques a two-year investigation was launched to determine the painting's authenticity, eventually determining it was a true work of Van Goghs. It was discovered that the painting was described in one of Van Gogh's letters to Theo, stating he had painted it the previous day, July 4th, 1888.
It is the first full-size painting by Van Gogh to be discovered since 1928. No estimate of value has been assigned to this new painting but comparable works have sold for between $40-80 million dollars. Sunflowers 1889 is comparable in size and sold for $40 million dollars.
---
PRINT>
Sunset at Montmajour 1888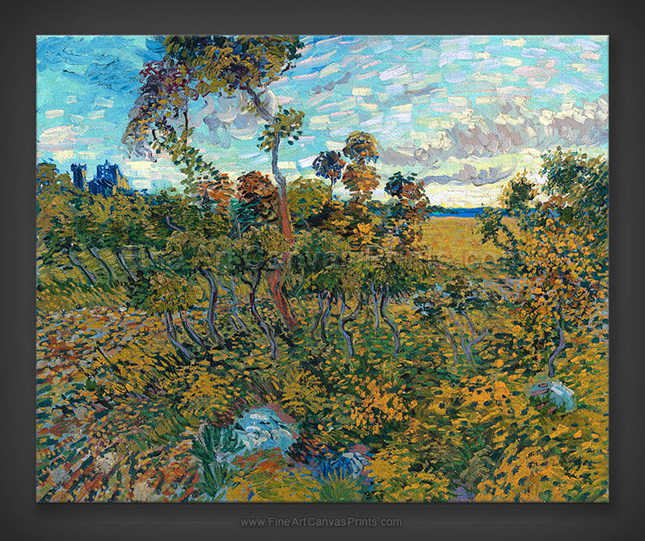 ---