---
Stolen Renoir sold at Auction for $1.6 million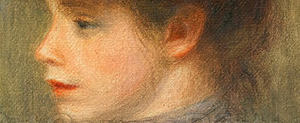 A stolen oil painting by French artist Pierre-Auguste Renoir was sold at Auction in London. The Japanese owner contacted police as soon as he noticed it was being sold.
The painting 'Madame Valtat 1903' is of Suzanne Valtat, wife of artist Louis Valtat, and friend of Renoir. It sold for $1.6 million dollars.
The owner had a number of works stolen in the summer of 2000, including a Chagall and Hirayama. At the time he failed to register the stolen artworks beyond the police. A registration with Art Loss Register may have alerted the Auction house, and the paintings could have been flagged as stolen.
Its believed the art work was sold soon after it was stolen. The Auction house told Japanese News that the seller had bought it legitimately in 2000 and was able to prove rightful ownership.
The owner wants it back, but due to the Auction houses privacy policy, that may be difficult.
Pierre Renoir: Madame Valtat 1903 Print
---