---
Drones eye view of Burning Man 2013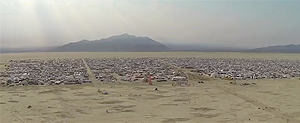 Some great Quadcopter video form Burning Man 2013. What Is Burning Man? Once a year, tens of thousands of participants gather in Nevada's Black Rock Desert to create Black Rock City, dedicated to community, art, self-expression, and self-reliance. They depart one week later, having left no trace whatsoever. Burning Man is also an ever-expanding year-round culture based on the Ten Principles.
What Isn't Burning Man? Burning Man isn't your usual festival, with big acts booked to play on massive stages. In fact, it's more of a city than a festival, wherein almost everything that happens is created entirely by its citizens, who are active participants in the event.
---
Some daytime scenes from around the playa at Burning Man 2013. Be sure to watch in HD at full screen for maximum awesomeness!
Major art include BELIEVE, The Man, French CORE: Stairway to Heaven, Minnesota CORE: The Year the Playa Stood Still, New Orleans CORE: Altar of the Wetlands: Recreating Nature in a Post-Industrial Society, Fractal Planet, The Janky Barge, Truth is Beauty, Coyote, East Bay CORE : First Home, NYC CORE: Star of the City, Like4Real, The Temple of Whollyness, Photo Chapel.
Soundtrack: Elixir by Fingers in the Noise.
Shot with a GoPro Hero3 on a DJI Phantom with an Arris CM2000 motorized gimbal.
---
Filmed with a GoPro Hero 3:Black on a TBS Discovery Pro quadrotor. Flown by DragonLink.
---
Burning Man 2013 from over 4 miles away.

This video captures Burning Man 2013 from an elevation of 5495 feet above sea level and over 4 linear miles from the center of Black Rock City.
Credits: Mark Phipps, John Phipps, Dallon Phipps, Kevin Johnson & Meghan Johnson. OpenOptics (Inspired Flight) and Dusty Nix for designing such an incredible sound score for this year's rendition (inspiredflightmusic.com, dustynix.com).
---