---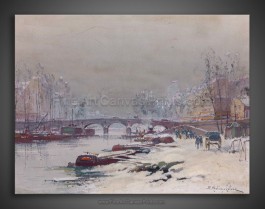 Eugene Galien-Laloue: The Place Pigalle
Eugene Galien-Laloue (1854-1941) was a French artist of French-Italian parents and was born in Paris on December 11, 1854. He was a popularizer of street scenes, usually painted in autumn or winter.
His paintings of the early 1900s accurately represent the era in which he lived: a happy, bustling Paris, la Belle Epoque, with horse-drawn carriages, trolley cars and its first omnibuses. Galien-Laloue's works are valued not only for their contribution to 20th century art, but for the actual history, which they document. His work can be seen at the Musee des Beaux-Arts, Louvier; Musee des Beaux-Arts, La Rochelle; Mulhouse, France.
A typical Galien-Laloue painting depicts sidewalks and avenues crowded with people or tourists mingling before the capital's monuments. Galien Laloue was in exclusive contract with one gallery and used 5 other names: "L.Dupuy", "Juliany", "E.Galiany", "Lievin" and "Dumoutier".
He also painted the landscapes of Normandy and Seine-et-Marne, as well as military scenes he was commissioned to produce in 1914. The Republic of France selected Galien-Laloue to work as a 'war artist,' both during the Franco-Prussian War and World War I, chiefly in watercolor.
NOTE: All 17x22 sizes will be changed to 18"x22" ($68) with a larger 22"x26" ($93) added as well. If you purchase this 17x22, I can either print a 17x22 or new 18x22. If you would like the larger 22x26, email me, I'll update this product to show both new sizes.
---
Canvas/Size: 17" x 22". Giclee Print on Canvas. Epson Premium Canvas Satin - Fine art high resolution water resistant glossy satin canvas.
Stretcher Frame: This print is professionally stretched on a milled wood frame, corners glued. Print wraps around sides and staples in the back. Eyelets and wire installed. ~ ready to hang.
---
All Prints: Glossy PremierArt Eco Shield Coating. This 100% archival aqueous based coating will not yellow, is nonflammable, and will not crack. Final print will be UV, minor scuff and dust protected.
---
Shipping:
U.S.A. & Canada only at this time.
---
Watermark:
The fineartcanvasprints.com watermark is online only, and wont appear on the prints.
---
Questions? Comments? Need some information on the prints? Email Me
---