---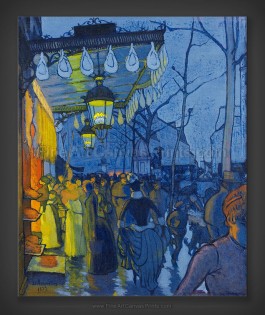 Louis Anquetin: Avenue de Clichy - Five O'Clock in the Evening 1887
Louis Anquetin (January 26, 1861 - August 19, 1932) was a French painter. Anquetin was born in Étrépagny, France and educated at the Lycee Pierre Corneille in Rouen.
In 1882, he came to Paris and began studying art at Leon Bonnat's studio, where he met Henri de Toulouse-Lautrec. The two artists later moved to the studio of Fernand Cormon, where they befriended Emile Bernard and Vincent van Gogh.
Around 1887, Anquetin and Bernard developed a painting style that used flat regions of color and thick, black contour outlines. This style, named cloisonnism by critic Edouard Dujardin, was inspired by both stained glass and Japanese ukiyo-e. One example of this can be seen in Avenue de Clichy - Five O'Clock in the Evening 1887, which is said to have inspired Van Gogh in painting his famous Cafe Terrace at Night 1888.
He eventually fell from the public's eye after abandoning the modern movements, opting instead to study the methods of the Old Masters. Thus, Anquetin's works following the mid-1890s, such as Rinaldo and Armida, were especially Rubensian and allegorical in nature. In 1907, he met Jacques Maroger, a young artist who shared his interest, with whom he collaborated.
Canvas/Size:
18"x22"
(
$122
),
22"x26"
(
$160
),
26"x30"
(
$198
),
30"x34"
(
$240
). Depending on the print file, all prints may not be available in all sizes.
Canvas: Giclee Print on Canvas. Epson Premium Canvas Satin - Fine Art, High Resolution, Water Resistant, Glossy Satin Canvas.

Stretcher Frame: This print is professionally stretched on a milled wood frame, corners glued. Print wraps around sides and staples in the back. Eyelets and wire installed. ~ ready to hang.

Print Coating: Acrylic Polymer Gloss Medium Coating. This 100% archival aqueous based coating will not yellow, is nonflammable, and will not crack. Final print will be UV, minor scuff and dust protected.
---
Shipping:
U.S.A. & Canada only at this time.
---
Questions? Comments? Need some information on the prints? Email Me
---