---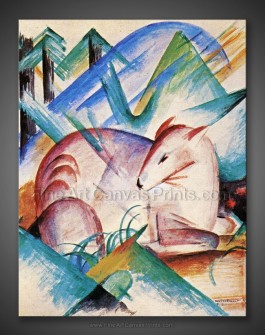 Franz Marc: Red Deer (1913)
Franz Marc (February 8, 1880 - March 4, 1916) was a German painter and printmaker, one of the key figures of the German Expressionist movement. He was a founding member of Der Blaue Reiter (The Blue Rider), a journal whose name later became synonymous with the circle of artists collaborating in it.
Franz Marc was born in 1880 in Munich, then the capital of the Kingdom of Bavaria. His father, Wilhelm, was a professional landscape painter, and his mother Sophie was a strict Calvinist.
In 1900, Marc began to study at the Academy of Fine Arts, Munich, where his teachers would include Gabriel von Hackl and Wilhelm von Diez. In 1903 and 1907 he spent time in France, particularly in Paris, visiting the city's museums and copying many paintings, a traditional way that artists studied and developed technique.
In Paris, Marc frequented artistic circles, and was able to meet numerous artists, including the actress Sarah Bernhardt. He discovered a strong affinity for the work of
Vincent van Gogh
.
NOTE: All 17x22 sizes will be changed to 18"x22" ($68) with a larger 22"x26" ($93) added as well. If you purchase this 17x22, I can either print a 17x22 or new 18x22. If you would like the larger 22x26, email me, I'll update this product to show both new sizes.
---
Canvas/Size: 17" x 22". Giclee Print on Canvas. Epson Premium Canvas Satin - Fine art high resolution water resistant glossy satin canvas.
Stretcher Frame: This print is professionally stretched on a milled wood frame, corners glued. Print wraps around sides and staples in the back. Eyelets and wire installed. ~ ready to hang.
---
All Prints: Glossy PremierArt Eco Shield Coating. This 100% archival aqueous based coating will not yellow, is nonflammable, and will not crack. Final print will be UV, minor scuff and dust protected.
---
Shipping:
U.S.A. & Canada only at this time.
---
Watermark:
The fineartcanvasprints.com watermark is online only, and wont appear on the prints.
---
Questions? Comments? Need some information on the prints? Email Me
---