---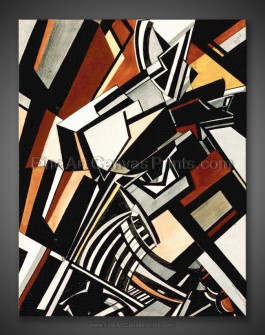 Wyndham Lewis: Composition (1913)
Percy Wyndham Lewis ( November 18, 1882 - March 7, 1957) was an English painter and author (he dropped the name 'Percy', which he disliked).
He was a co-founder of the Vorticist movement in art, and edited the literary magazine of the Vorticists, BLAST. His novels include his pre-World War I-era novel Tarr (set in Paris), and The Human Age, a trilogy comprising The Childermass (1928), Monstre Gai and Malign Fiesta (both 1955), set in the afterworld.
A fourth volume of The Human Age, The Trial of Man, was begun by Lewis but left in a fragmentary state at the time of his death.
He also wrote two autobiographical volumes,
Blasting and Bombardiering
(1937) and
Rude Assignment: A Narrative of my Career Up-to-Date
(1950).
NOTE: All 17x22 sizes will be changed to 18"x22" ($68) with a larger 22"x26" ($93) added as well. If you purchase this 17x22, I can either print a 17x22 or new 18x22. If you would like the larger 22x26, email me, I'll update this product to show both new sizes.
---
Canvas/Size: 17" x 22". Giclee Print on Canvas. Epson Premium Canvas Satin - Fine art high resolution water resistant glossy satin canvas.
Stretcher Frame: This print is professionally stretched on a milled wood frame, corners glued. Print wraps around sides and staples in the back. Eyelets and wire installed. ~ ready to hang.
---
All Prints: Glossy PremierArt Eco Shield Coating. This 100% archival aqueous based coating will not yellow, is nonflammable, and will not crack. Final print will be UV, minor scuff and dust protected.
---
Shipping:
U.S.A. & Canada only at this time.
---
Watermark:
The fineartcanvasprints.com watermark is online only, and wont appear on the prints.
---
Questions? Comments? Need some information on the prints? Email Me
---