---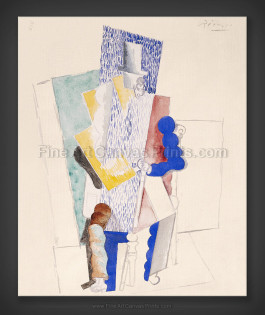 Pablo Picasso: Man in the Opera Hat 1914
Pablo Picasso (October 25, 1881 - April 8, 1973), was a Spanish painter, sculptor, printmaker, ceramicist, and stage designer who spent most of his adult life in France.
One of the greatest and most influential artists of the 20th century, he is widely known for co-founding the Cubist movement along with Georges Braque, the invention of constructed sculpture, the co-invention of collage, and for the wide variety of styles that he helped develop and explore.
Among his most famous works are the proto-Cubist Les Demoiselles d'Avignon 1907, and Guernica 1937, a portrayal of the German bombing of Guernica during the Spanish Civil War.
Picasso demonstrated extraordinary artistic talent in his early years, painting in a realistic manner through his childhood and adolescence. During the first decade of the 20th century, his style changed as he experimented with different theories, techniques, and ideas. His revolutionary artistic accomplishments brought him universal renown and immense fortune, making him one of the best-known figures in 20th-century art.
Canvas/Size:
18"x22"
(
$110
) ~or~
22"x26"
(
$145
). Giclee Print on Canvas. Epson Premium Canvas Satin - Fine art high resolution water resistant glossy satin canvas.
Stretcher Frame:
This print is professionally stretched on a milled wood frame, corners glued. Print wraps around sides and staples in the back. Eyelets and wire installed. ~ ready to hang.
All Prints:
Acrylic Polymer Gloss Medium Coating. This 100% archival aqueous based coating will not yellow, is nonflammable, and will not crack. Final print will be UV, minor scuff and dust protected.
---
Shipping:
U.S.A. & Canada only at this time.
---
Color: Adjusted to be accurate to the original. Product image colors can shift on different monitors.
---
Questions? Comments? Need some information on the prints? Email Me
---