---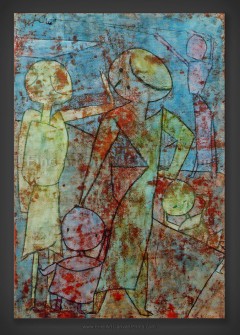 Paul Klee: Group Going Home Soon 1940
Paul Klee (December 18, 1879 - June 29, 1940) was born in Munchenbuchsee, Switzerland. His highly individual style was influenced by movements in art that included expressionism, cubism, and surrealism.
He was, as well, a student of orientalism. Klee was a natural draftsman who experimented with and eventually mastered color theory, and wrote extensively about it; his lectures Writings on Form and Design Theory, published in English as the Paul Klee Notebooks, are considered so important for modern art that they are compared to the importance that Leonardo da Vinci's A Treatise on Painting had for Renaissance.
He and his colleague, the Russian painter Wassily Kandinsky, both taught at the German Bauhaus school of art, design and architecture. His works reflect his dry humor and his sometimes childlike perspective, his personal moods and beliefs, and his musicality. Klee's artistic breakthrough came in 1914 when he briefly visited Tunisia with August Macke and Louis Moilliet and was impressed by the quality of the light there. He wrote, "Color has taken possession of me; no longer do I have to chase after it, I know that it has hold of me forever... Color and I are one. I am a painter."
After returning home, Klee painted his first pure abstract, In the Style of Kairouan 1914, composed of colored rectangles and a few circles. The colored rectangle became his basic building block, what some scholars associate with a musical note, which Klee combined with other colored blocks to create a color harmony analogous to a musical composition. His selection of a particular color palette emulates a musical key. Sometimes he uses complementary pairs of colors, and other times "dissonant" colors, again reflecting his connection with musicality.
Canvas/Size:
18"x26"
(
$135
) ~or~
22"x30"
(
$160
). Giclee Print on Canvas. Epson Premium Canvas Satin - Fine art high resolution water resistant glossy satin canvas.
Stretcher Frame:
This print is professionally stretched on a milled wood frame, corners glued. Print wraps around sides and staples in the back. Eyelets and wire installed. ~ ready to hang.
All Prints:
Acrylic Polymer Gloss Medium Coating. This 100% archival aqueous based coating will not yellow, is nonflammable, and will not crack. Final print will be UV, minor scuff and dust protected.
---
Shipping:
U.S.A. & Canada only at this time.
---
Color: Adjusted to be accurate to the original. Product image colors can shift on different monitors.
---
Questions? Comments? Need some information on the prints? Email Me
---