---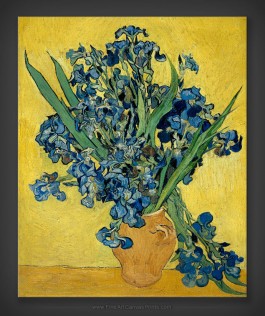 Vincent van Gogh: Vase with Iris against a Yellow Background 1890
Vincent Willem van Gogh (March 30, 1853 - July 29, 1890) was a Dutch post-Impressionist painter whose work, notable for its rough beauty, emotional honesty, and bold color, had a far-reaching influence on 20th-century art.
Van Gogh began to draw as a child, and he continued to draw throughout the years that led up to his decision to become an artist. He did not begin painting until his late twenties, completing many of his best-known works during the last two years of his life.
In just over a decade, he produced more than 2,100 artworks, consisting of 860 oil paintings and more than 1,300 watercolors, drawings, sketches and prints. His work included self portraits, landscapes, still lifes of flowers, portraits and paintings of cypresses, wheat fields and sunflowers.
Around 1887, Louis Anquetin and Emile Bernard developed a painting style that used flat regions of color and thick, black contour outlines. This style, named cloisonnism by critic Edouard Dujardin, was inspired by both stained glass and Japanese ukiyo-e. One example of this can be seen in Avenue de Clichy - Five O'Clock in the Evening 1887, which is said to have inspired Van Gogh in painting his famous Cafe Terrace at Night 1888.
Canvas/Size:
18"x22"
(
$122
),
22"x26"
(
$160
),
26"x30"
(
$198
),
30"x34"
(
$240
). Depending on the print file, all prints may not be available in all sizes.
Canvas: Giclee Print on Canvas. Epson Premium Canvas Satin - Fine Art, High Resolution, Water Resistant, Glossy Satin Canvas.

Stretcher Frame: This print is professionally stretched on a milled wood frame, corners glued. Print wraps around sides and staples in the back. Eyelets and wire installed. ~ ready to hang.

Print Coating: Acrylic Polymer Gloss Medium Coating. This 100% archival aqueous based coating will not yellow, is nonflammable, and will not crack. Final print will be UV, minor scuff and dust protected.
---
Shipping:
U.S.A. & Canada only at this time.
---
Questions? Comments? Need some information on the prints? Email Me
---